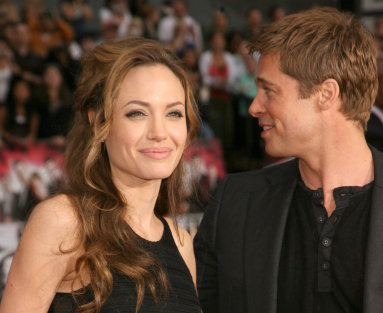 Brangelina has finally made it official!
On Wednesday at a private event in Los Angeles, Jolie was spotted with a new bauble on that finger.
Beverly Hills jeweler Robert Procop, who worked with Jolie on the "Style of Jolie" jewelry collection and The Tourist, confirmed the news to The Hollywood Reporter, who first broke the story. Pitt's manager, Cynthia Pett-Dante, later verified the engagement. She told People Magazine that: "It is a promise for the future and their kids are very happy. There's no date set at this time."
It took over a year to create Jolie's one-of-a-kind sparkler. Us Weekly reports that Brad oversaw the entire design process, from selecting a tablet-shaped diamond that "perfectly suits Angelina's long, slender fingers" to finalizing a mounting with a "galaxy of smaller side stones which are graduated in size and faceted to match." Click here to see an exclusive photo of Jolie's ring!
In January 2012, Pitt revealed to The Hollywood Reporter that wedding bells were in the distant future, saying, "We made this declaration some time ago that we weren't going to do it till everyone can. But I don't think we'll be able to hold out. It means so much to my kids, and they ask a lot. And it means something to me, too, to make that kind of commitment."
The pair met in 2005 while filming Mr. and Mrs. Smith and are rumored to be starring in a new film together called The Counselor. They have six children together.
—Stefania Sainato
Photo Credit: GYI NSEA/iStockphoto