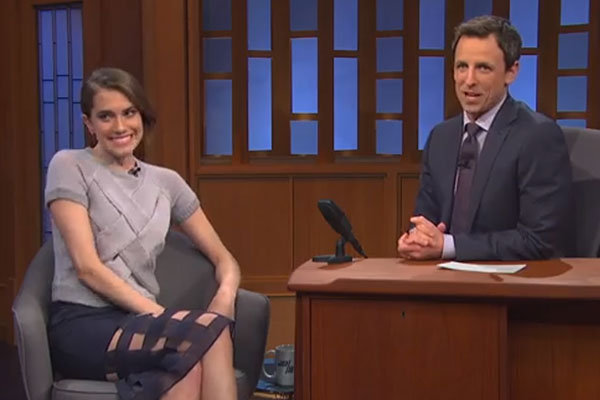 Girls star Allison Williams stopped by Late Night with Seth Meyers last night to dish about her recent engagement to CollegeHumor.com co-founder Ricky Van Veen — which caught her completely by surprise.
"[It was] the best kind of surprise, and we're really, really thrilled," she said. "The funniest thing about that is I consider myself someone who is impossible to surprise, and yet I am constantly surprised by things."
And, of course, she showed off her gorgeous engagement ring. "I'm obsessed with it. I stare at it a lot." she shared.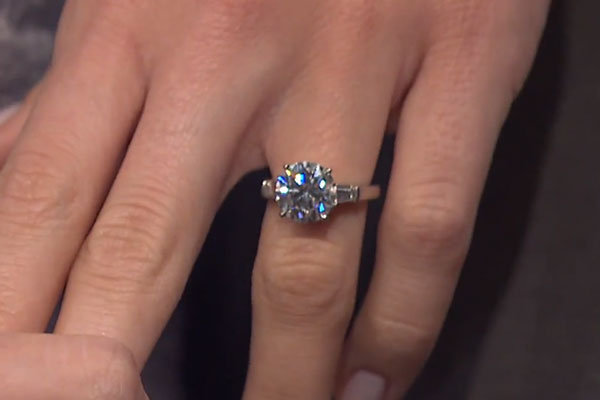 With marriage on the horizon, she confessed that it does make her view her relationship differently.
"The investment is there. It just changes the stakes, clearly," she said. "But it's really fun."
Not only has being engaged raised the stakes in her own life, but it's made her view her favorite show, The Bachelor, differently.
"Suddenly, the show feels real. I understand the stakes for the first time ever, which is so weird because I have empathy, but for some reason it's never occurred to me, like, 'They're getting engaged on this show!'" Williams said. "I was filled with anxiety for all of the contestants."
The proud father-of-the-bride, NBC anchor Brian Williams, appeared on the show the night before. When Meyers suggested that Williams will be an intimidating father-in-law, the anchor joked that he's "so anxious to meet this guy."
"No, he's a lovely guy and they love each other," Williams said. "There's no objection anyone could raise in the world."
Has he been invited to the wedding? "No, they just want the money," he quipped.
—Kristen Klein