We were recently honored to be a part of the judging panel for the fifth annual bridal gown design competition from New York City's High School of Fashion Industries (HSFI) in partnership with Kleinfeld Bridal. These amazingly talented students, all from the junior class, created gorgeous gowns showcasing their creativity and design skills. A special thank-you goes to longtime HSFI Patron and Lifestyle Commentator, Robert di Mauro, who created the program and dedicated it to his father Thomas Gaetano di Mauro (who had attended the high school) and to the contest's stellar ongoing partner, Mara Urshel, co-owner of Kleinfeld Bridal and her team. Their dedication continues to provide invaluable opportunities for students.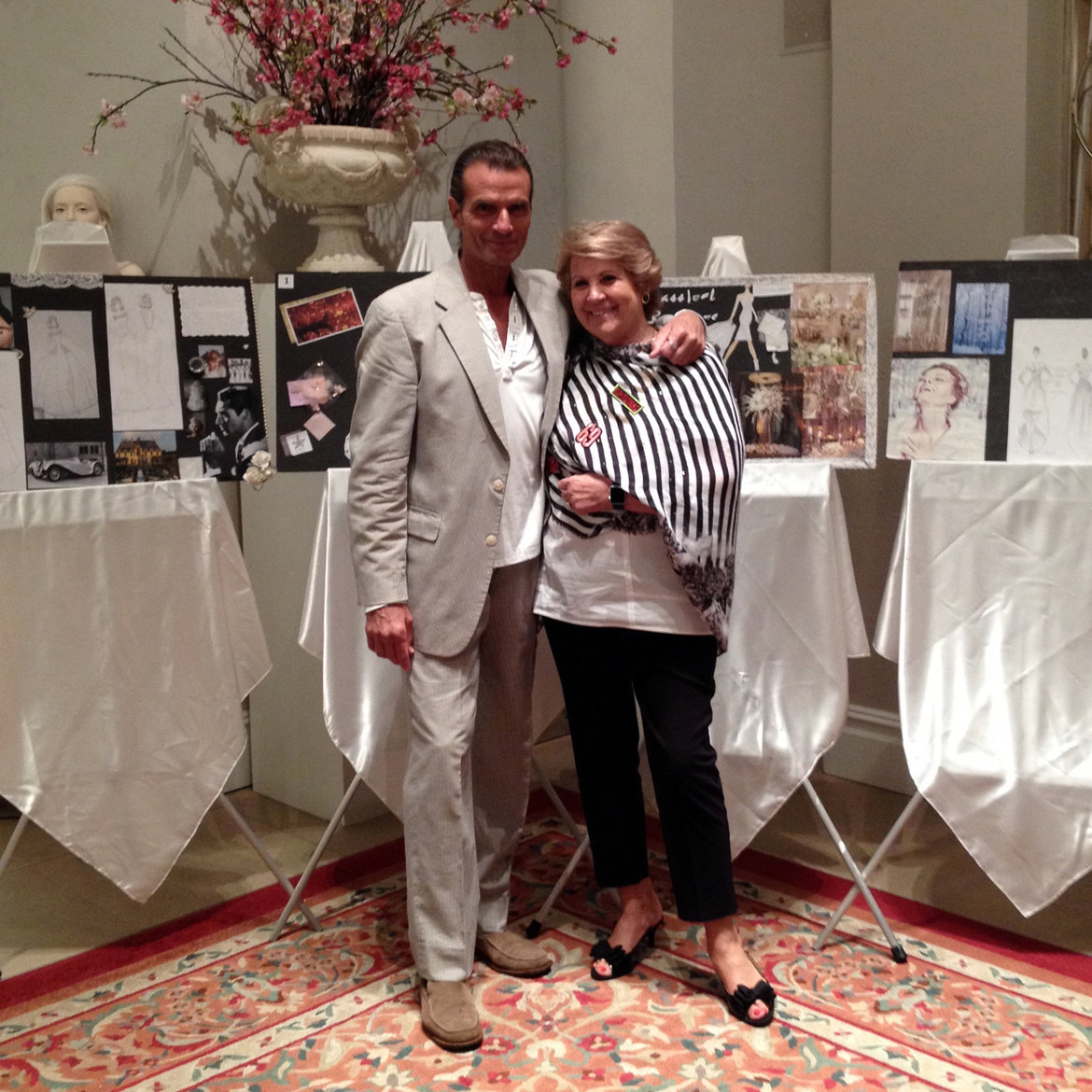 From 80 sketches, the judges chose five finalists (not an easy task!) who, under the supervision of their instructor, Stephanie Balmir, and with the help of some classmates, brought their vision to life using fabric provided by designer Madeline Gardner of Mori Lee.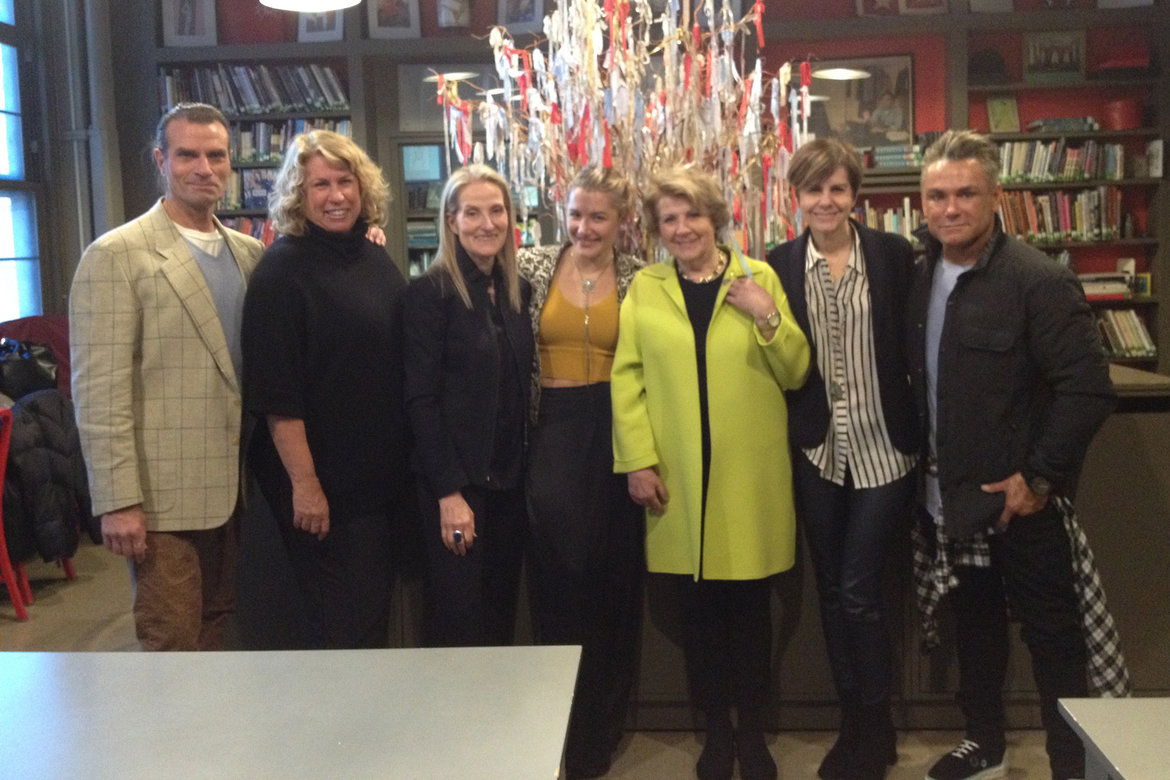 The sketches are judged by from left, Robert di Mauro, Dorothy Silver, designers Michelle Roth and Hayley Paige, Mara Urshel and designers Madeline Gardner and Mark Zunino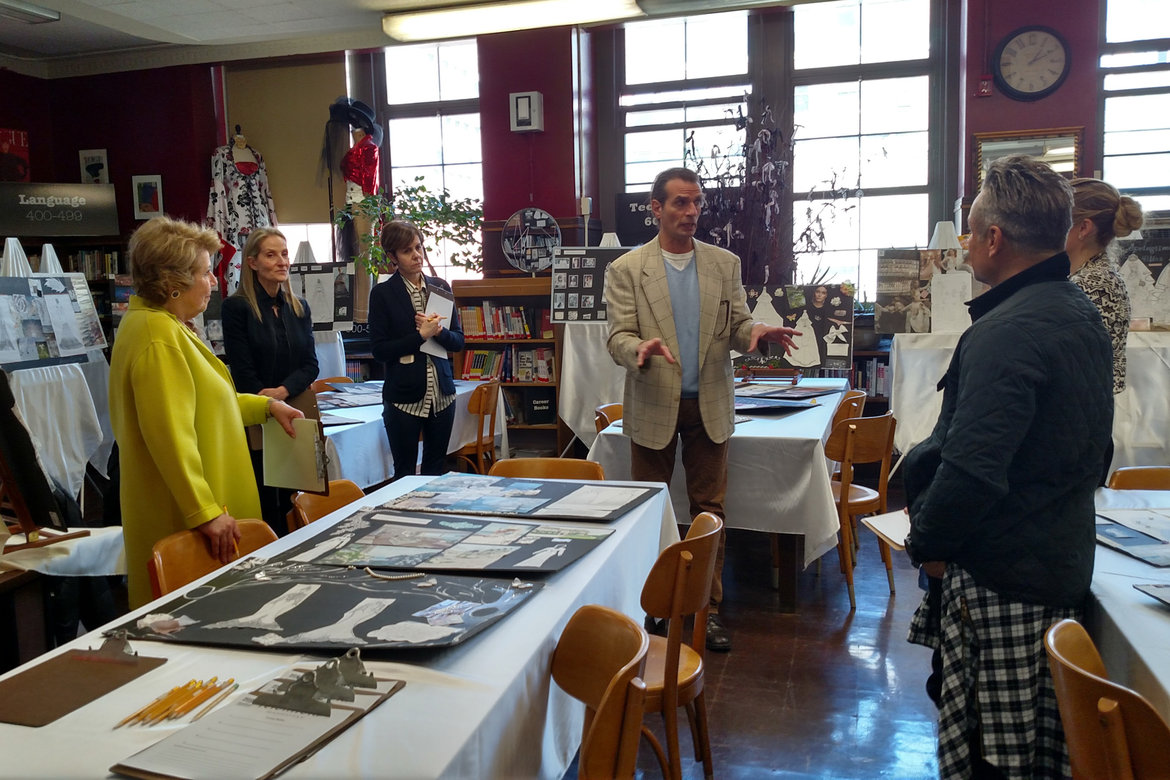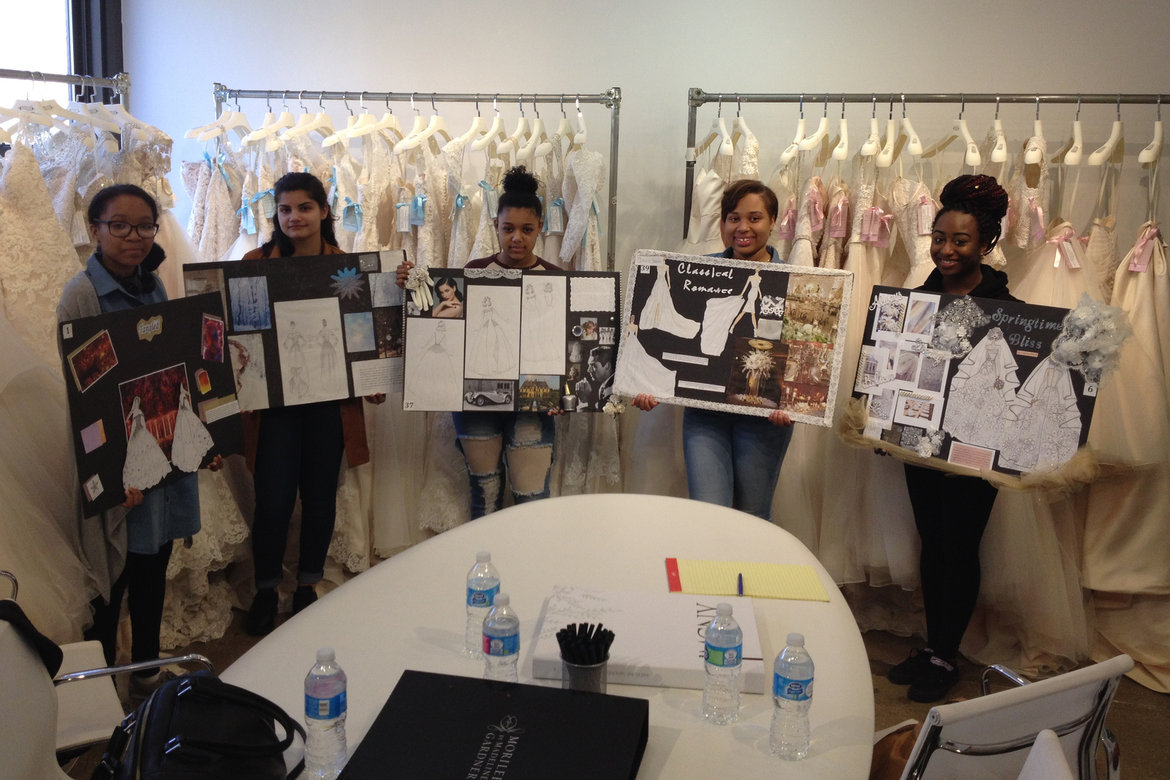 The five finalists, from left: Mimiteh David, Naomi Olivo, Deannelys Corcino, Oshura Godwin and Indirxia Bowie.
Students were also privileged to have a master class at Kleinfeld with Mara Urshel and Kleinfeld's Director of Sales and Marketing, Dorothy Silver. And they attended the Tony Ward bridal fashion show at Kleinfeld during New York City's Bridal Fashion Week.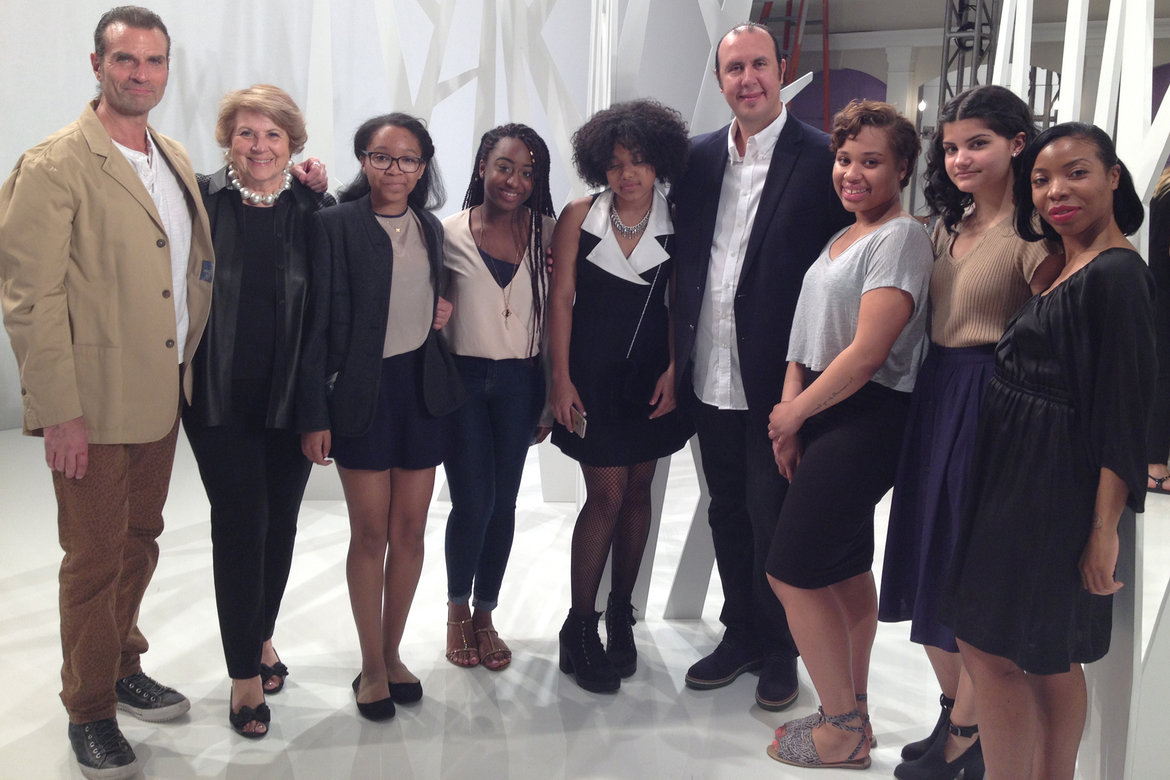 Once the gowns were completed, the judges — along with HFSI instructors, fellow students, friends and family — gathered at Kleinfeld Bridal to see the final results. 
Indirxia Bowie's "Springtime Bliss" mood board reflected her love of nature. Her romantic dress featured a mesh neckline and long sleeves, floral lace, tulle flowers and a layered organza skirt.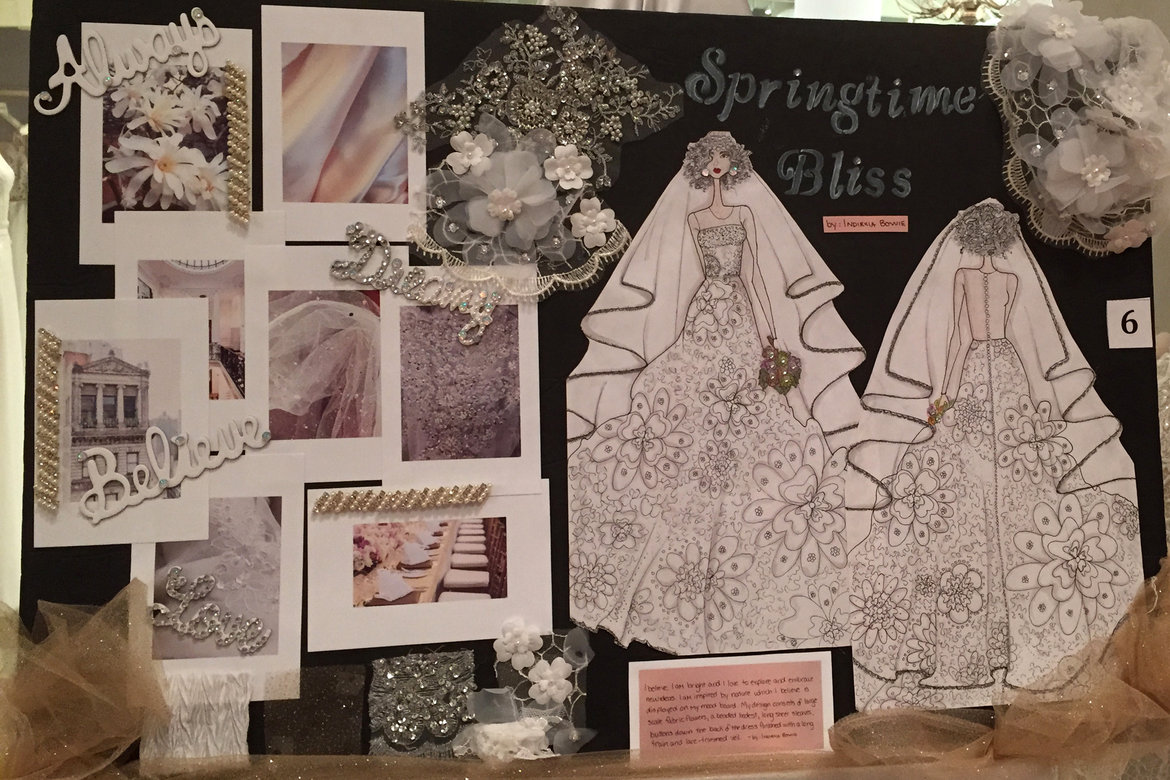 Deannelys Corcino was inspired by "Old Hollywood Glamour," and her crystal-embellished mermaid gown with a detachable skirt and deep-U back perfectly captured the essence of elegant A-list style.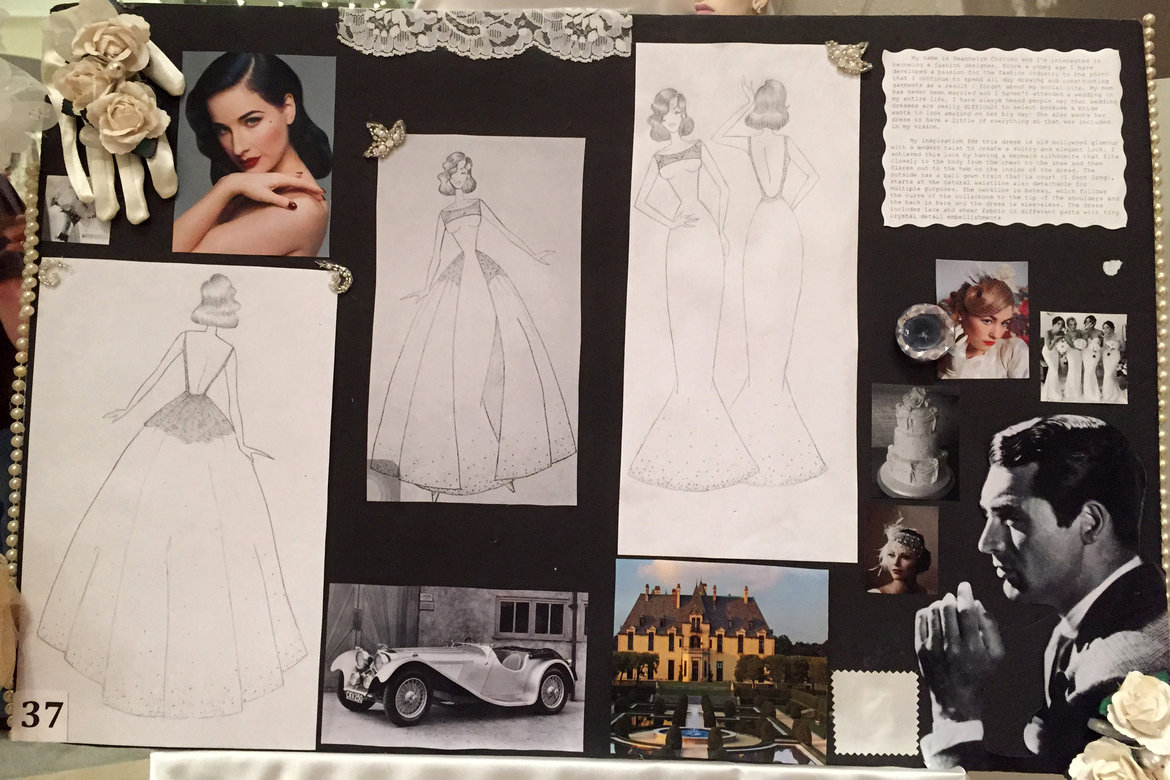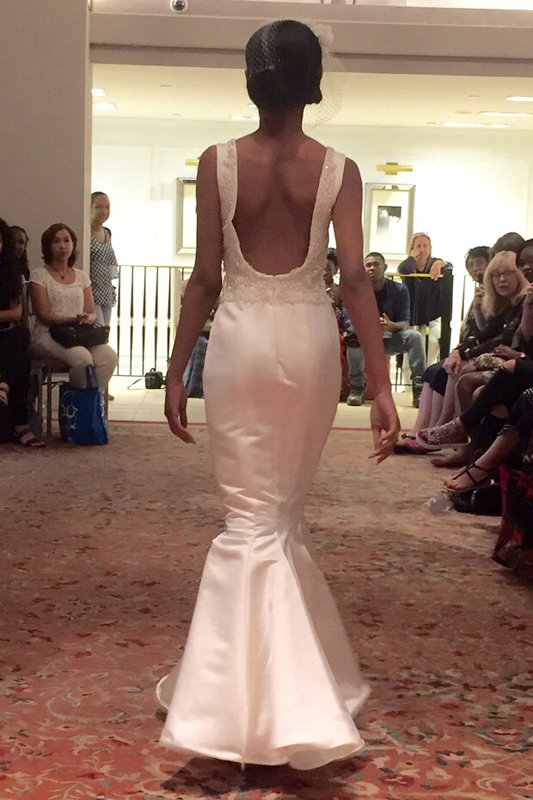 Mimeteh David was inspired by the Disney movie "Tangled" and its magical paper lantern scene. She wanted her dress "to symbolize the breathtaking scene and song," and her pink gown featured pretty blooms that cascaded from the bodice onto the tiered skirt.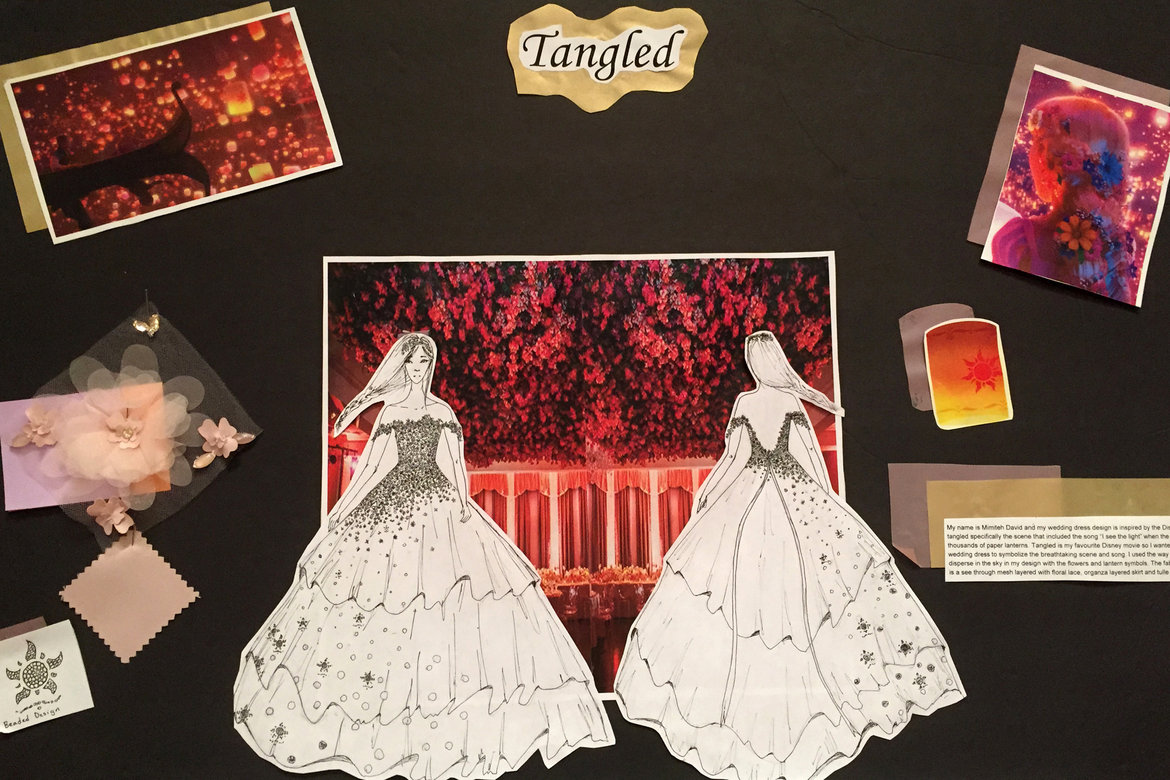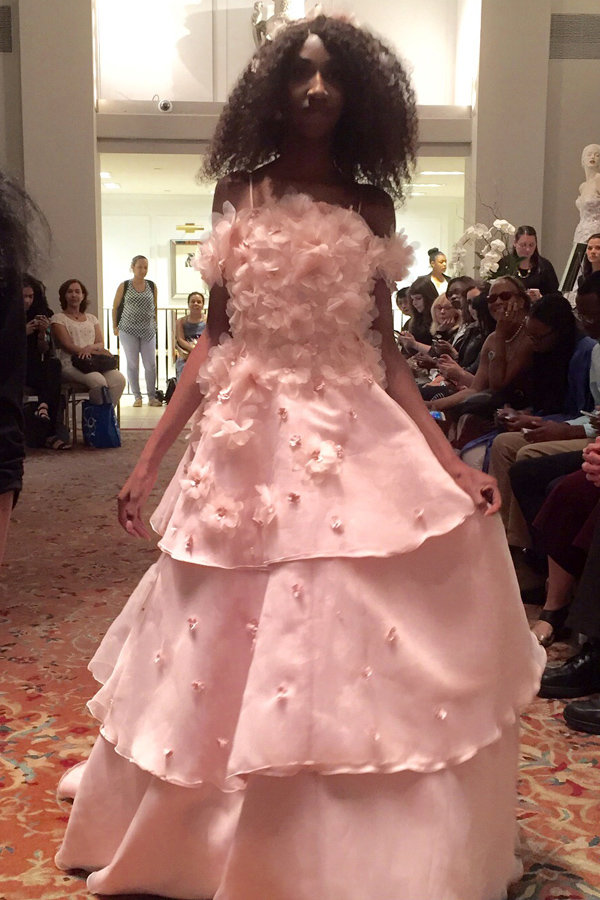 "Classical Romance" was Oshura Godwin's inspiration: "I believe a bride should feel beautiful within and look as if she's getting married in a palace." Her two-looks-in-one gown was designed with lace, satin and layered tulle and the removable skirt featured a mini-dress beneath.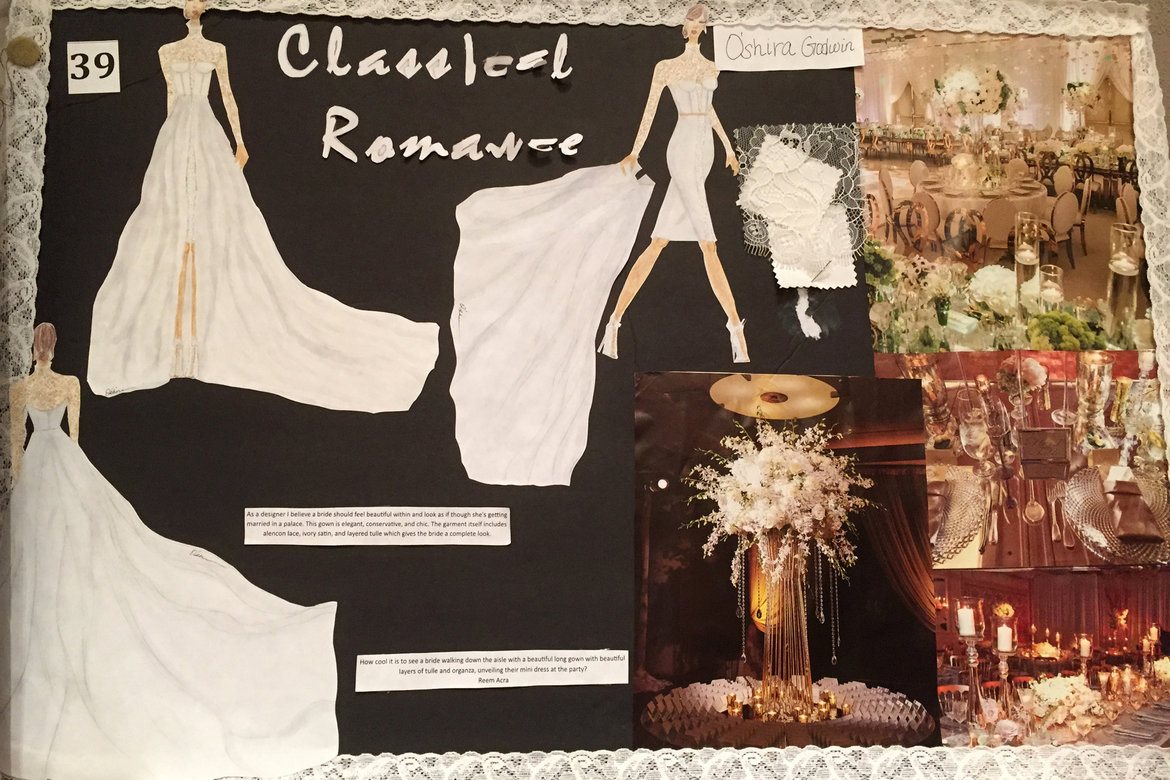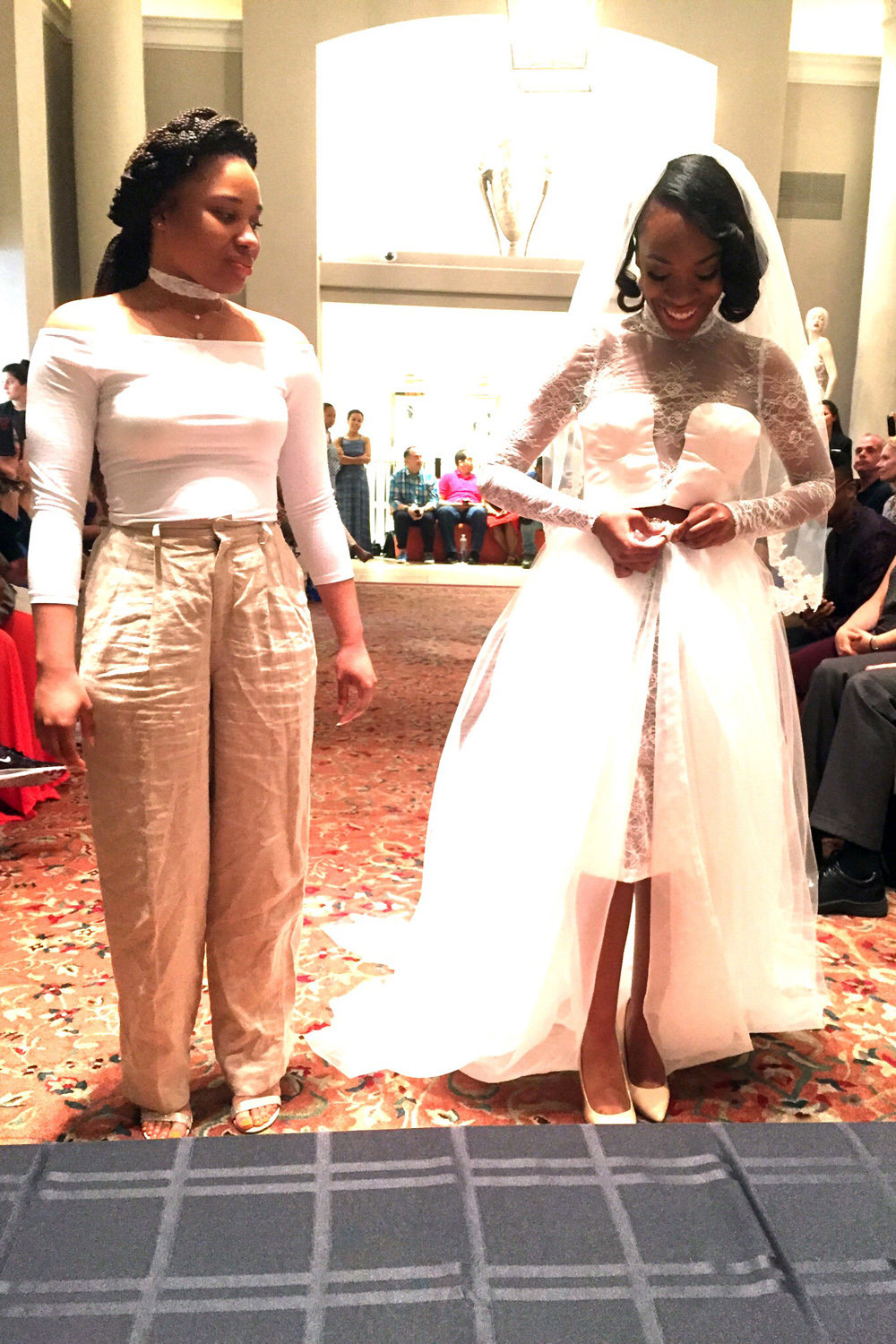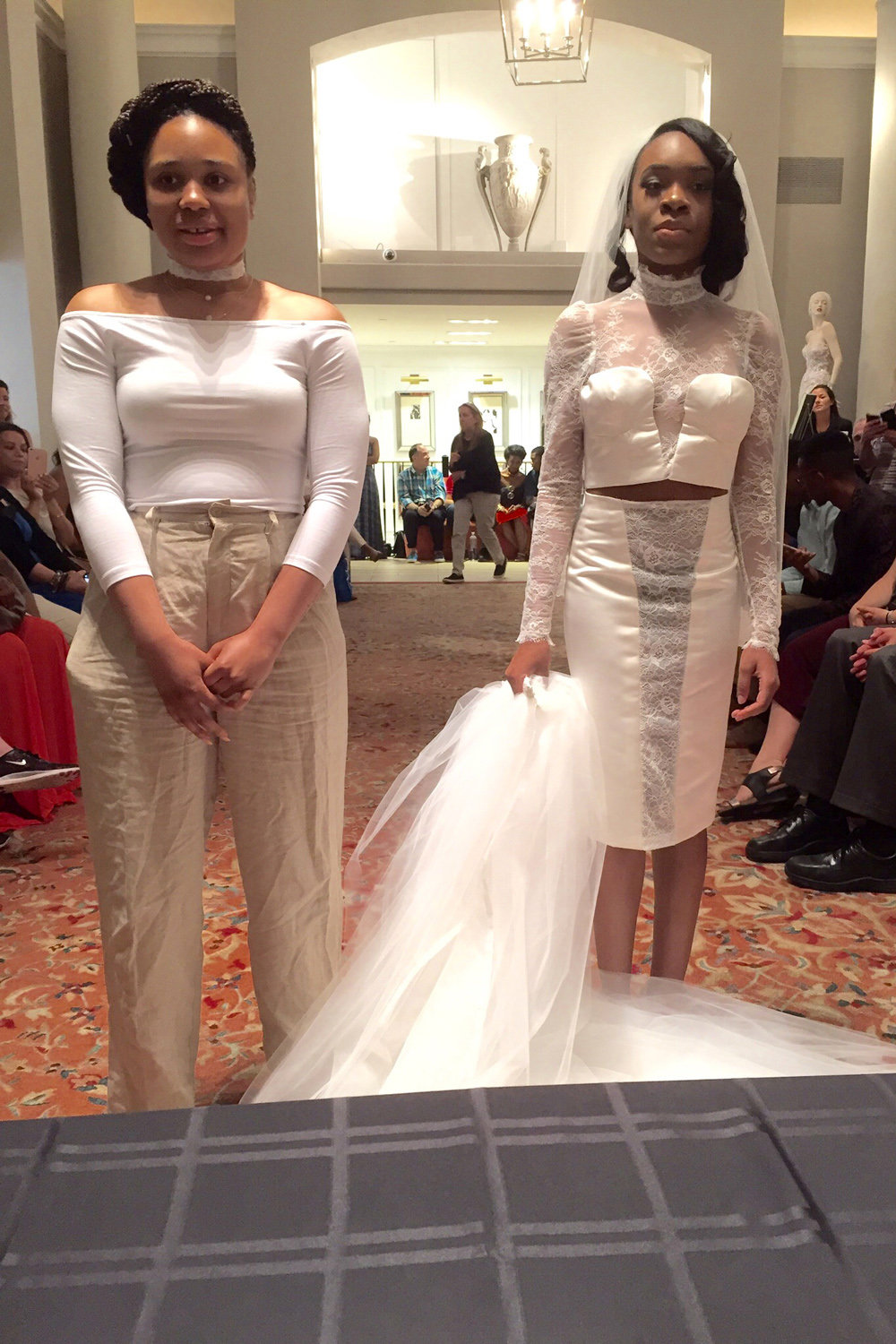 Naomi Olivo's mood board, appropriately named "Ice Queen," highlighted her love of New York City during the winter season with "snow everywhere like crystals. My dress is designed for someone who also loves the winter and the shimmery goodness that comes along with it." Naomi's hi-low dress featured a sparkling snowflake-like lace bodice and a four-layered organza skirt paired with a crystal-beaded veil.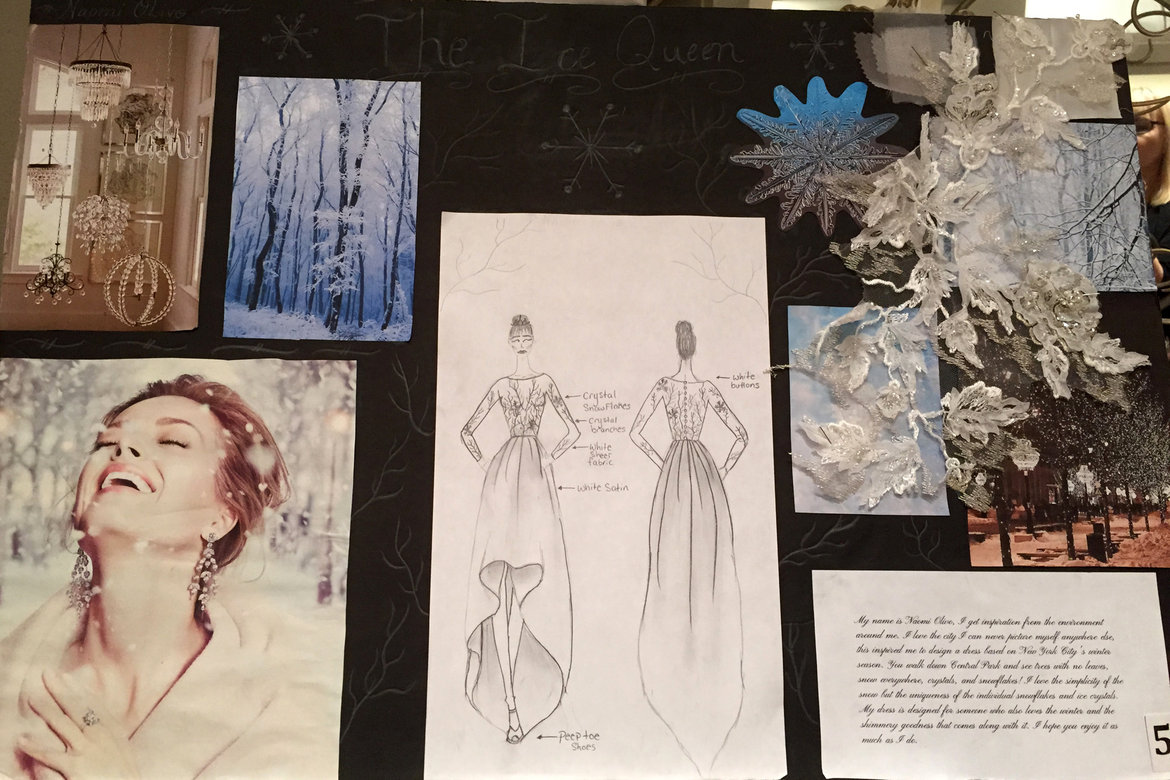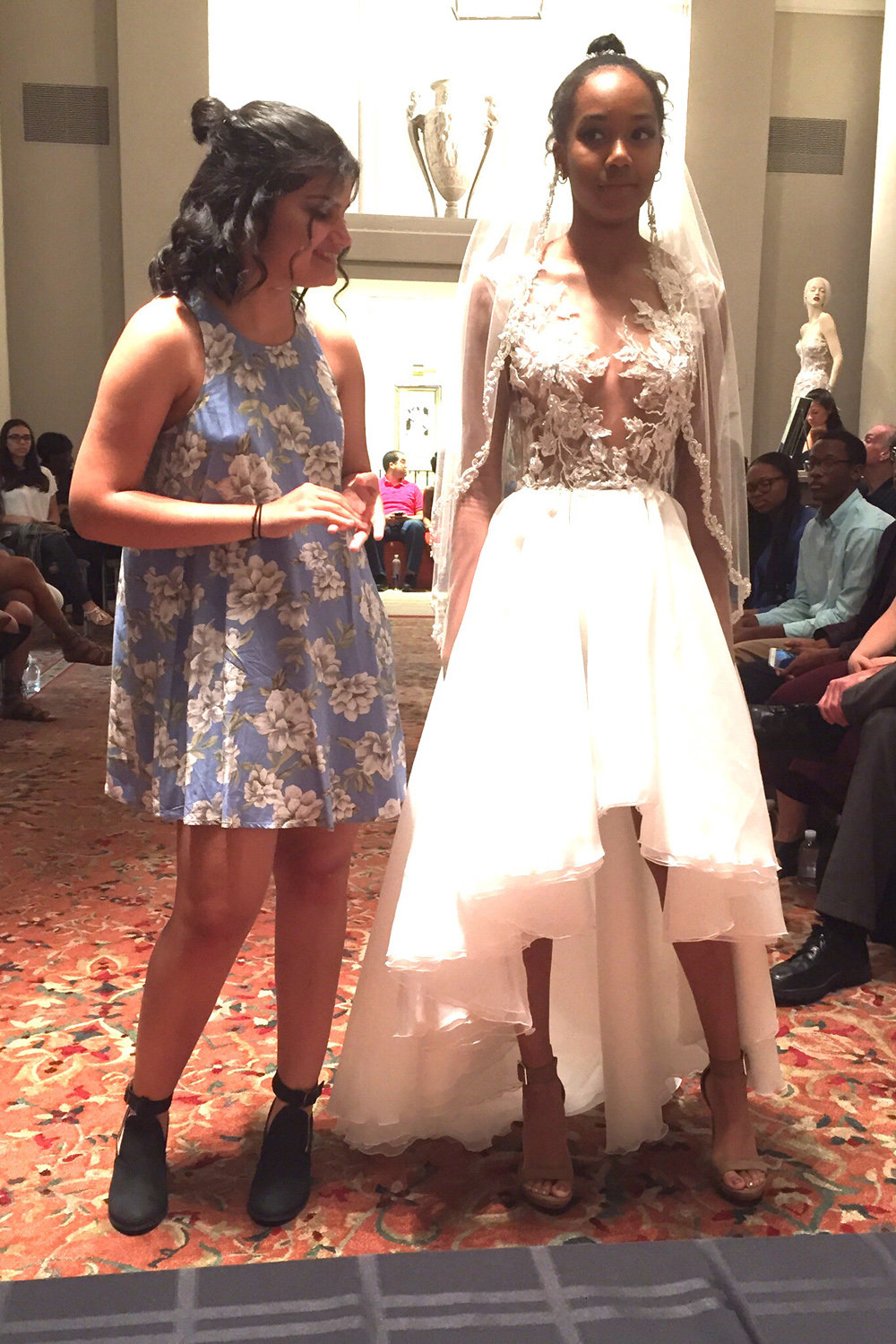 Needless to say, selecting just one winner was nearly impossible, and for the first time in five years, the panel of judges unanimously agreed on a tie awarding two students for their extraordinary designs. Here, Robert di Mauro and the winners, Deannelys Corcino, left, with her Hollywood-inspired gown and Naomi Olivo, right, with her Ice Queen-inspired dress.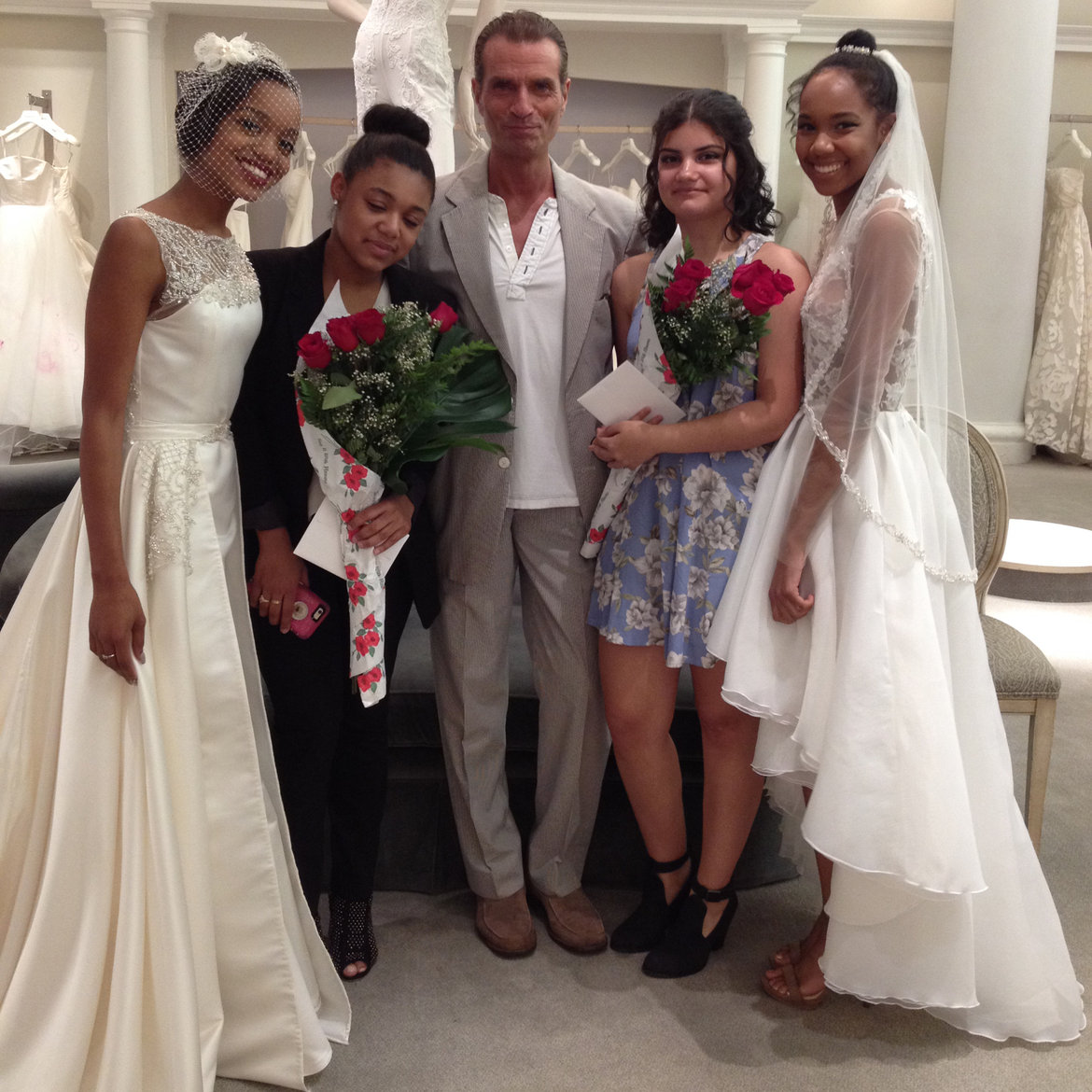 Other judges included, from left, HSFI instructor, Stephanie Balmir, Kleinfeld Creative Director Jacques Vigneault, Patron and Lifestyle Commentator Robert di Mauro, yours truly, Mori Lee designer Madeline Gardner, (the two winning students and their models), Kleinfeld co-owner Mara Urshel, and former HSFI instructor, Sandra Manning. Principal of the High School of Fashion Industries, Daryl Bank (behind Mara Urshel and Sandra Manning) and student Deannelys Corcino with her model also joined the group shot.
Congratulations to all of the talented students who participated in the contest and to the High School of Fashion Industries for their exemplary commitment to providing students with the highest educational standards. We'll definitely be on the lookout for future bridal gown designers from HSFI!
—Diane Forden